Maine West High School
Class Of 1977
In Memory: As of 06/03/2019
Patrick Daniel Hartley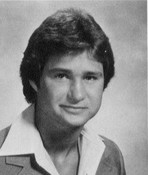 Born: March 17, 1959
Died: February 12, 2010 age 50 (cause unknown)
Pat attended all 4 years and was a Class of '77 graduate.
Patrick D. Hartley a lifelong resident of Des Plaines Visitation for Patrick D. Hartley, 50, was held on Tuesday, Feb. 16, 2010, at Oehler Funeral Home, 2099 Miner St. (Northwest Highway/Route 14 at Rand Road), Des Plaines. Prayers were said at 10:15 a.m. Wednesday, Feb. 17, at the funeral home, proceeding to St. Stephen Church, Prospect at Ash St., Des Plaines, for Mass at 11 a.m. Interment will be in All Saints Cemetery. Born March 17, 1959, in Chicago, he died Friday, Feb. 12, 2010, in Des Plaines. Patrick was a graduate of Maine West High School Class of 1977 and the owner of Hartley Plumbing. He was the husband of Valerie (nee Kuehne); loving father of Tracy and Kelly Hartley; dear son of William E. and the late Wanda Hartley; son-in-law of Patricia and the late Richard Kuehne; beloved brother of William E. (Diane), Ron (Laura) and Glen (Lynn Chu) Hartley; fond uncle of Sean Hartley, Emily Van Essen and Colleen Booker; and faithful master to his four-legged companions, Casey and Sam. In lieu of flowers, memorials may be made to Tracy's and Kelly's education fund.
Published in Chicago Suburban Daily Herald on February 16, 2010.