Maine West High School
Class Of 1977
In Memory: As of 06/03/2019
Jeffrey Darren Brydges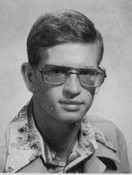 Died: February 5, 2005, age 45 (cause unknown)
Jeff attended all 4 years and was a Class of '77 graduate. Per the 20th Reunion Program, he was a horticulturist, living in Tucson, AZ.
The following was located by Nancy Wright - Meyer, MW '61 on 11/11/2015:
Jeffrey Brydges, 45, of
Tucson
, passed away February 5, 2005. Preceded in death by his father, Richard Brydges . He is survived by his mother, Nancy (John) Brydges - Roach; sister, Jeanne Brydges; brothers, Scott, Todd and Shane (
Shannon
) Brydges. Also survived by his uncle, Thomas (Karen) Brydges; cousins, Susan, Sally and David; one niece and one nephew. A memorial service will be held on Saturday, February 12, 2005 at 100 p.m. at the Kingdom Hall of Jehovah's Witnesses, 1743 W. Wetmore Rd. Arrangements by DESERT ROSE CREMATION & BURIAL, Tucson, AZ.